In this guide you will find information about sizes, composition and basis weight to give you all the details you need to choose your baby slings and wraps.
Ring Slings
BabyMonkey ring slings are one size, they suit perfectly both mom and dad.
Ring slings can be used both on the right and left shoulder and they are easy to wear. Ring slings can be used from birth and they're particularly comfortable to hip carry your baby when the're about 4 months old.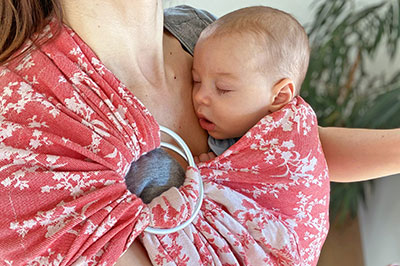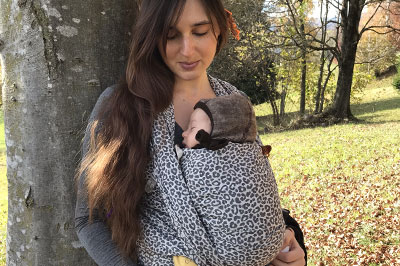 Woven Baby Wrap
Size 6 is generally the most suitable for both mom and dad and it allows you to tie the wraps in different ways. If you were a sturdy or very tall it is preferable to opt for an extra size (size 7). Conversely, if you are very slim or short, you can choose a smaller size (size 5).
In case you think of sharing the wrap with your partner, it is advisable to choose the largest size between those necessary for the two different body types.
Size Guide
Choose the woven wrap size according to the carrier's size and how you want to tie it: the age or weight of the child aren't indicators to make the right choice.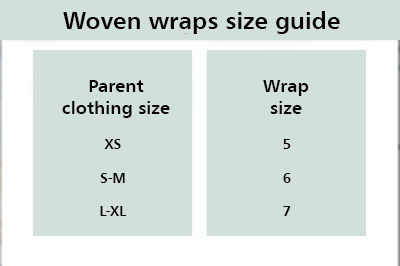 Fabric and composition
The best fabric for a woven wrap is undoubtedly the diagonal pattern one, which makes the wrap soft and slightly elastic. This kind of fabric ensures the best fit for the bodies of the little one and their carrier, an optimal weight distribution and adequate support for the child. The wraps also have different compositions (blend) of the fabric: BabyMonkey woven wraps are 100% cotton made and they're also available in a Linen blend version.
Cotton
Fabric easy to handle and wash, very breathable, supportive and highly adaptable. Gentle on the skin of newborns.
Linen blend
Soft fabric, very fresh and breathable. Usable from birth and perfect for heavier children.
Other blends
Bamboo, hemp, wool, silk, etc. There are several fabric compositions for wraps, which respond to different specific needs.
Basis Weight
The basis weight is nothing more than the weight of the wrap expressed in grams per square meter. The higher it is, the thicker and more supportive the fabric. The weight is expressed in g/sqm and technically is the weight of the material (cotton, linen, bamboo, etc.) that is in a square meter of fabric. Higher weight means more material or heavier fabric, lower weight means less material or less heavy fabric.
Lightweight
Light fabric, easy to handle, and it is usually suitable for newborns and babies.
Medium Weight
Perfect fabric to be used from birth until the end of your babywearing journey.
Heavy Weight
Thicker and more supportive fabric, it is suitable for heavier children.
BabyMonkey produces medium weight wraps (around 250 g/sqm) that adapt very well to different weights and ages, following the child's growth, from when they're newborns up to 18 kilos (39 lbs).
BabyMonkey® Woven Baby Wraps
Our most comfortable and versatile baby sling, perfect to carry for long time, from birth up to 18 kilos (39 lbs).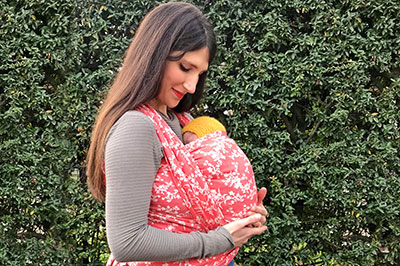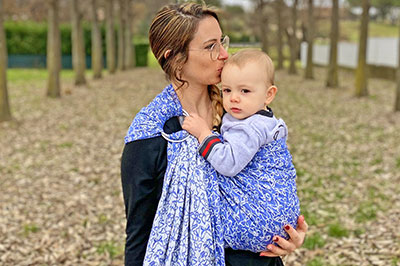 Our easiest-to-wear baby sling. A ring sling is great for breastfeeding and it is perfect to be carried in your purse for any emergency.