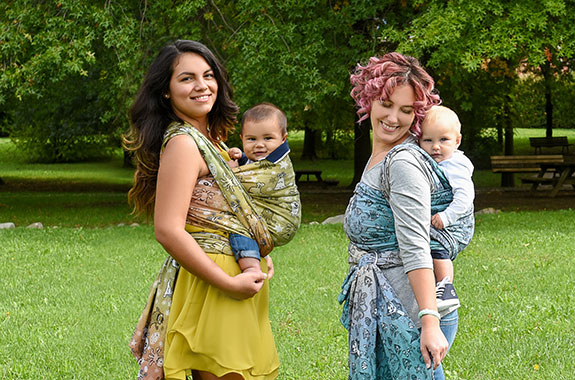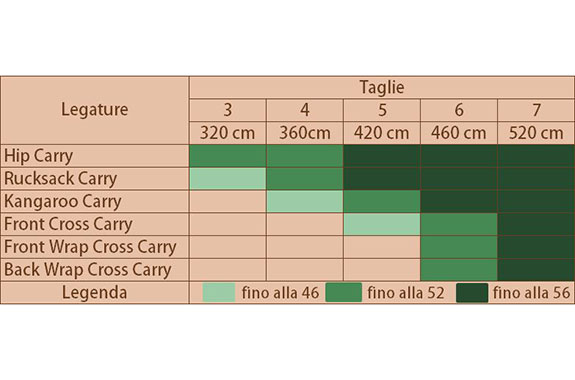 The choice of the size depends on the kind of binding you mean to do and on the carrier's build. We usually suggest the size 6 as it allows more bindings and offers a good wearability on different builds.
How to Choose the sling
All BabyMonkey slings can be used since the very first days of life of the baby; however there are some little details that make a sling more suitable than another for a specific use. Below you will find some guidelines to help you choose, the age is approximate, as each mother should be able to understand her and her baby's needs.
For the first year of life
In the first months two kinds of sling allow the belly-belly position, perfect for breastfeeding:
Long rigid slings, with more layers of fabric, are the best choice for the good support they offer.
Ring slings are suitable for people needing a practical sling which is simple and fast to wear.
After one year
When children grow, their autonomy desire grows along with them; however, when you need to walk for long, when your baby gets tired or needs some cuddles, BabyMonkey slings help you with their support, wearability and perfect weight distribution.
Long woven wrap are particularly suitable for the support they give and for the possibility to choose among different carry.
Short woven wrap and ring slings are easier to wear and allow a quicker "rise and fall".
Fabrics
Cotton fabrics are easier to maintain and are perfect for newborn babies as they are softer and fluid.
Linen-Cotton fabrics, offer a better support without losing softness and freshness, they are traditionally used for heavy children.